ABBY LOWENSTEIN

Brooklyn-based designer and art director with a love for understanding how culture shapes design (and vice versa).

CV
CONTACT



LIVE ROSIN GUMMIES (2023)
Art Direction, Packaging
Creative Direction: Marc Hohmann
Art Direction: Abby Lowenstein, Ned Hardy
Photography: James Emmerman, Ian Shiver

Packaging and campaign for PAX's first edible line, Live Rosin Gummies.

PAX DEVICE REFRESH (2022)
Art Direction, Packaging
Creative Direction: Marc Hohmann
Art Direction: Abby Lowenstein, Ned Hardy
Photography: Eric Helgas
Package redesign of PAX's iconic vape device lineup to shift the brand away from its techy SFcore positioning to a more weedy, cannabis-forward lifestyle brand.
Visually this means an overall more accessible and vibrant design language that is also reflected in the overall identity system of which these packages are the foundation. Both executions for the PAX ERA and PAX PLUS & MINI lines focus on a 'less is more' approach prioritizing sustainability over design complexities: The MINI & PLUS sleeve is bespoke, and the rest of the package is a 'one size fits all' fully recyclable box construction. Similarly, the ERA package utilizes a universal tray that showcases the device on the package facade without using product photography which reduces surface space. All structures are custom engineered and designed to reflect complex cannabis regulatory mandates such as child proofing, legal language requirements, etc.
2023 Dieline Awards 2x Silver Medal Recipient
CYBER QUEER (2020), (2023 Exhibition)
Senior Thesis
Selected to be featured in Queer Futurities: The Cyborg Re-Imagined at The Hokin Gallery (Chicago, Spring 2023), an exhibit exploring queered notions of gender, embodinent and identity in a culture mediated by technologies.

CYBER QUEER is a printed zine which explores the impact and influences of online queer communities onto the offline lives of their members. CQ serves as an archive of queer life on the burgeoning Internet platforms of the 1990s through the 2010s.

CYBER QUEER is the culmination of a year-long research project into methods of communication and queer community building during the pre-Internet era. Among those were zines, inexpensive DIY literary works whose relative ease-of-access facilitated the distribution of counter-cultural perspectives and resources into the hands of diverse, oftentimes isolated communities. CYBER QUEER contains numerous images reproduced from queer-topic zines of the '80s and '90s as an homage to these invaluable communication methods which preceded present-day digital spaces.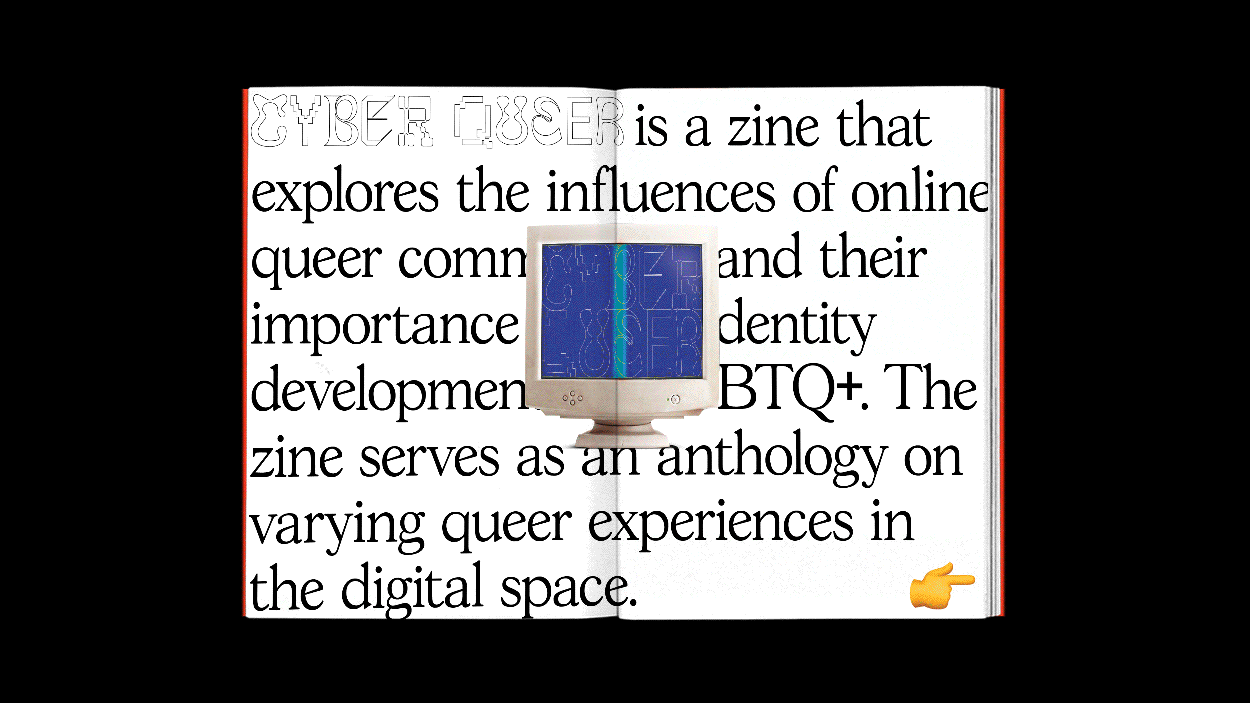 ERA ULTRA (2023)
Campaign, Art Direction

Creative Direction: Marc Hohmann
Art Direction: Abby Lowenstein, Ned Hardy
Photography: Lindsay Ellary
Styling: Jake Sammis
Production: Hyperion LA


There's an Ultra device inside of all of us. Find yours.
PAX MINI & PAX PLUS (2022)
Campaign, Art Direction
Creative Direction: Marc Hohmann
Art Direction: Ned Hardy
Design: Abby Lowenstein
Photography: Evan Angelastro
Styling: Mitch McGuire
Production: Hyperion NY

We might be different, but we all smoke zaza.